Marja Bon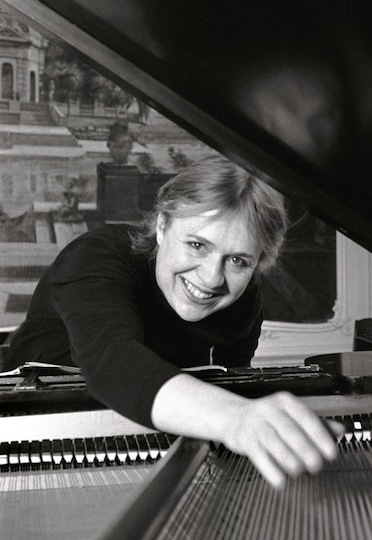 As a pupil of the Dutch pianist Maria Stroo and the Hungarian pianist Ferenc Rados, Marja Bon received several prizes including the 'Prix d'Excellent' and the 'Elisabeth Everts' prize. In New York City she experienced the musical life around Rosina Lhevinne and studied with Martin Canin. As a soloist, she played all over Europe and she also performed 'Songs without Words' by Mendelssohn, with the Netherlands Dance Theater, in choreography by Hans van Manen.
In 1979 Marja Bon became the pianist of the Schönberg Ensemble under the music director Reinbert de Leeuw. Tours to America, Europe and India followed and she made a CD of music by Schönberg, Janacek, Messiaen (Canions aux Etoiles) and Kagel (Trio) with this ensemble.
In 1993 she started her own ensemble Wendingen together with a small group of musicians, sculptors, and painters. The exhibitions and concerts took place in a beautiful wooden church, the Amstelkerk in Amsterdam. The group brought out 3 CDs, musical portraits of the Dutch composers Theo Loevendie, Luctor Ponse, and Willem Frederik Bon.
After 15 years she moved her activities to a little French village where she was artistically responsible for 'Tharaux Arts & Musique'.
For some time she also taught several courses on modern music for pianists and singers in Switzerland and The Netherlands.
After some years of caring for her mother with dementia, she is glad to play again with the Rietveld Ensemble.
In the beautiful historic music-salon in her home in Amsterdam, she regularly organizes events with music, poems, and art.
Photo: Camilla van Zuylen